×
Ender's Game - Movie Review
×
Ender's Game - Movie Review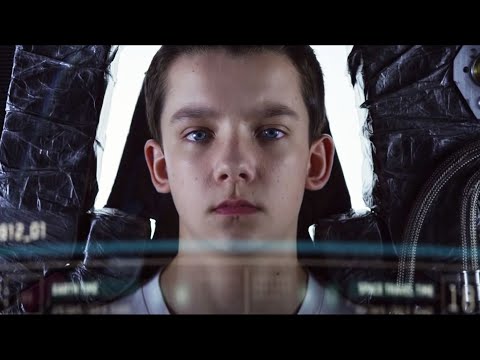 I saw this movie at a screening in the IMAX Theatre at Edward's Marq*E Stadium;  and it's the way to go if you have access to IMAX and 14 bucks.  Eric H. and I have been waiting for this film for months.  The story is based on the novel by Orson Scott Card.  Mr. Card has written many books about Ender and the saga continues.   And so does some political and moral controversy. 
If you are hearing about Ender Wiggin (Asa Butterfield) for the first time, just remember that there are thousands of Ender devotees who might be sitting next to you and have been chomping at the bit to see anything related to Ender. 
Young Ender is only twelve years old, but he has been recruited by the International Fleet (earth) to be trained as a warrior.  The mission will be to lead the next battle against the extremely advanced space aliens (Formics) who successfully attacked earth 50 years ago. 
 The intensive training of Ender and other highly-recruited adolescents takes place on a space station that is orbiting earth.  The battle room, which is the center of the strategic combat exercises, is as wide as three football fields and has zero gravity.  Hence, we witness the beautifully choreographed floating of these young humans with laser pistols and spacesuits as they learn maneuvers that will help them in fighting the Formics.   
Colonel Graff (Harrison "Han Solo - 1977" Ford) is in charge of preparing these "launchies" and it's a brutal regimen; everyone does not make it.  Ender, however, is exceptionally brilliant and particularly talented which pleases his superiors who are intent on defending earth and destroying the Formics.  Much of the evaluation is based on inherent leadership skills which require some mind games. 
The special effects and Computer-Generated Imagery (CGI) are amazing.  I was mesmerized the entire movie.  Huge attaboys for director and sole screenwriter Gavin Hood.  Hood also plays the Giant in this movie.  (I did not know this tidbit until the end credits, but I wanted you to be on the lookout.)  He's a frustrated actor and former lawyer, but his directorial career will take a major turn upward in large part due to his exceedingly skillful creation of a dazzling masterpiece in this first of what will surely be many more movies about Ender. 
The choreography, editing, and set designs were remarkable.  The cast was near-perfect and will earn them repeat performances: Viola Davis, Hailee Steinfeld, Abigail Breslin, Ben Kinsley, and Nonso Anozie.  
Who should see this movie?  For sure, those of you who have read Card's novels, and movie lovers who are impressed with stunning special effects and space-age warfare and mystique.  Unfortunately, I predict that many of you will not enjoy this movie. 
I loved it.  Rock 'n Roll. 
Grade 92.   Larry H.