×
Universal Pictures
Lucy
×
Lucy
Lucy trailer by Universal Pictures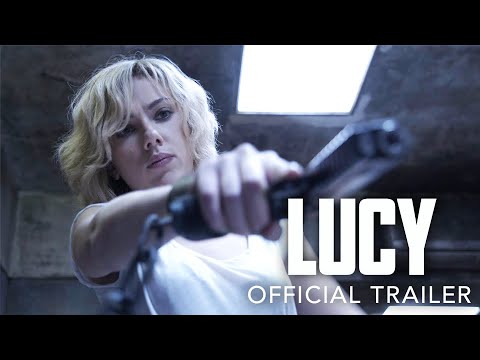 "The average person uses 10% of their brain capacity.  Imagine what she could do with 100%."  This statement is by Professor Norman (Morgan Freeman) when describing Lucy (Scarlett Johansson) at a time when the audience is still learning about the powers of our heroine as she targets the bad guys who done her wrong by putting CHP4 in her abdomen.  What's so great about CHP4?  It's the secretion by women in their sixth week of pregnancy that helps the fetus to begin to grow and form  bones.  Never heard of CHP4, but I'm thinking about snorting some.  If you're buying, Screenwriter/Director Luc Besson is selling. 
Lucy was beaten, blindfolded and beaten some more by the Big Boss, Mr. Jang, and his gang.  When the CHP4 kicks in and Lucy is reforming her brain and ever increasing its capacity, she takes revenge and becomes a gun-wielding warrior.  A really smart combatant with a Beretta 92FS in one hand and a Glock in the other.  She could kill five guys with single shots faster than Clint Eastwood's Man With No Name.  
This is a thought-provoking script with many flashbacks interspersed with quick scenes of animals and vivid colors so Besson could mold our thinking without putting text on the screen.  He did a job on me.  What kind of a brain does Luc Besson, 55, have?  He wrote "Taken" starring Liam Neeson as Bryan Mills in 2008.  And Besson is a Frenchman who is well-known for his skill as an innovative cameraman when he is the director.  I had visions of "Tree of Life" (2011) by Terence Malick during this film, so I recommend that you view this film while sober. 
"All this brain power... I don't know what to do with it. Without time, we do not exist"  Man, that's heavy.  I told you that Besson was French.  
Johansson is fantastic as the superhero Lucy and she brings her A-game.  She's still beautiful, but she delivers a wide range of emotions and deeply formed facial expressions that demonstrates, yet again, that she is not a blond bimbo.  And in case you aren't buying this science-thriller by Besson, then rest at ease because he casted Mr. Legitimate (Freeman) as the all-knowing professor to explain everything to us and then the professor and his colleagues stood calmly during a 40-man shootout without showing any fear.   Now that's brain power.  Rock 'n Roll. 
Grade 89.  Larry H.