×
American Sniper Movie Trailer
×
americansnipermovie.com
American Sniper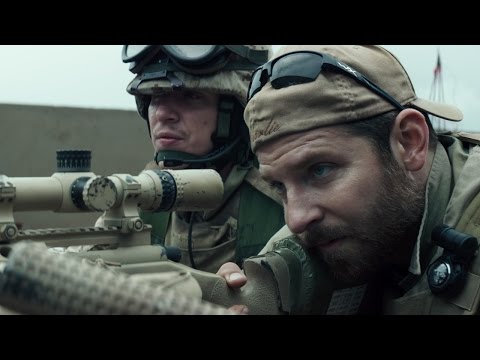 This is an extremely patriotic movie based on the real-life story of Navy Seal Chris Kyle (Bradley Cooper). Cooper allegedly trained daily and ate up to 8,000 calories a day for months to put on the 40 pounds needed to play the part of sniper-hero Kyle.  Born in Odessa, Texas, Kyle was a true Texan and Cooper captured the Texas twang and wore the rodeo belt buckle with the appropriate Wrangler-jeans saunter.
The first part of this Clint-Eastwood-directed movie is the childhood, family, and character development of Kyle and the romance of his wife, Taya (Sienna Miller). Eastwood convinces the audience that Kyle was a natural to become an American Sniper who would serve four tours of duty in Iraq and become the most decorated sniper in American history by accomplishing over 160 confirmed kills.  He was known as "The Legend."
There are many close-ups of military rifles and pistols; Clint doesn't hesitate to show us the business end of these weapons.  Almost all of the rifles had scopes and were some version of the classic M-16/M-4. These rifles were beautiful.
"My favorite was a .300 Win. Mag. rifle with an Accuracy International stock. It was a Crane-designed rifle that handled real well and delivered superior accuracy over standard-issue rifles," as explained by Kyle. "We were issued the SIG P226, but I'm not a fan of 9 mm. On one deployment, I brought my own SIG P220 in .45 ACP. I'm also a huge fan of 1911s..."
The primary source for the screenplay was the book by Chris Kyle entitled "American Sniper" and it was a huge success and New York Times bestseller.
The movie was superbly edited and the cinematography by Clint's crew was outstanding. If you like modern-day warfare and are a fan of well-done combat scenes, then this Christmas Day movie (limited release) is the movie for you.  Rock 'n Roll.
---
Grade 88. Larry H.
---