×
Supplied
Popcorn 620x360
×
How to Make Healthy Flavored Popcorn
In this video, Betty demonstrates how to make 3 different low calorie popcorn recipes. The flavors are Cheese Popcorn, Garlic-Herb Popcorn, and Brown Sugar-Cinnamon Popcorn.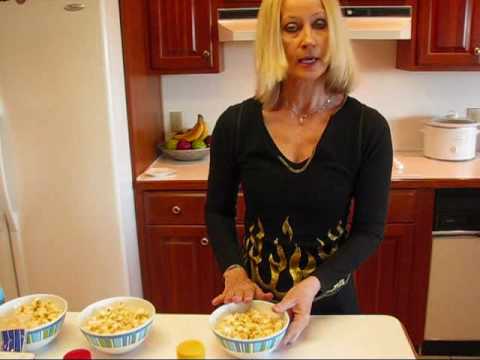 ---
When it comes to healthy snacking, the pickings can be slim.
But did you know that popcorn is made of a whole grain that's linked to lower rates of diabetes and heart disease?
Here are more fun and healthy facts about one of America's most popular treats:
 Popcorn is a whole grain that contains 40 or more nutrients.
 The germ in the popcorn kernel contains all of the B complex vitamins, plus vitamin E,     riboflavin and thiamine.
 Popcorn has more protein than any other cereal grain.
 Popcorn has more iron than eggs, peanuts, spinach, or roast beef.
 The hull and outer layers are rich in iron, phosphorous and protein.
 Popcorn has more phosphorous and fiber than potato chips, ice cream cones or pretzels.
 Unbuttered popcorn only has between 25 and 55 calories per cup.
 Popcorn is listed third in a list of 11 eleven things that don't cause cancer.
 Popcorn aids digestion by providing necessary roughage, also known as fiber.
Source:standardconcessionsupply.com  
Looking for a little different flavor twist?
The American Diabetic Association recommends popcorn, but without the salt and butter. Instead, try flavoring popcorn with:
•             Low-fat parmesan cheese;
•             Garlic and basil seasoning;
•             A dash of spice (for example, pepper, paprika or chili powder);
•             A few chocolate chips; or
•             A dab of peanut butter.