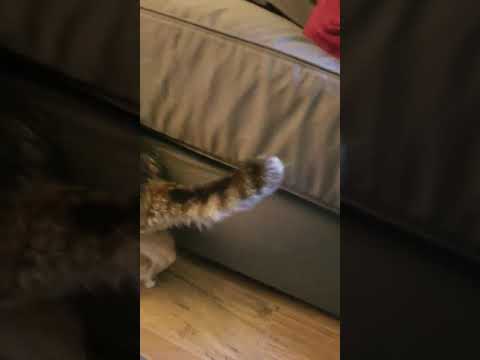 Hi kitty lovers! My name is Rumi. I'm a beautiful, elegant tortoiseshell lady who loves to be in your lap. I'm a little hesitant when I first meet new people, but after a day or so, all I'll want to do is be curled up in your lap.
I'm not a very playful girl. At my stage in life, I'm here for the snuggles! I love to greet my humans with a few meows and will let out a few little grunts when I'm exploring and find something that catches my interest.
I'm a tiny, senior kitty who is very friendly and affectionate. One unique thing about me is that I'm a polydactyl kitty, which means I have extra toes with which to love you! I am fine around other cats. My philosophy is live and let live! I would do well in a chill home with a furever human who wants a cuddly, lap cat and also understands that I'm an older lady with some kidney troubles who needs a special diet.
I'm a special kitty who will bring joy and cuddles to whoever brings me home!
Sex: Female
Looks Like: Domestic Shorthair  
Current Weight: 5.84 pounds
Age: 8 years, 8 months
Meow Memo: I have chronic renal disease which means my kidneys do not function as well as they once did. My condition is very common in older cats and APA! offers a special adoption package for cats like me. Read more about renal failure and adoption details here.  
About Austin Pets Alive!
Austin Pets Alive! is a private 501(c)3 nonprofit organization dedicated to stopping the killing of Austin's adoptable dogs and cats. All APA! cats are fully vetted, spayed or neutered, and have updated vaccines and a microchip.
---
About H-E-B
H‑E‑B is one of the largest independent food retailers in the nation. Today H‑E‑B serves families all over Texas and Mexico in 155 communities, with more than 340 stores and over 100,000 employees.
---
About Well Beyond Care
Well Beyond Care provides the tools that help you plan care and allow your loved ones to safely age in place. It is the only company that teaches families and individuals how to find and manage affordable non-medical in-home care, while solving the chronic problems of caregiver truancy and turnover.
---
Interested in adopting me? Please contact adopt@srgserv.com.
Note: This pet may have found their forever home since the publishing of this article. To see other adoptable senior cuties, visit here.