×
"Emergency Preparedness – How Did the Crisis of Winter 2021 Occur and How Can You Prepare if it Happens in the Future?" with Mackenzie Kelly, Austin City Council member, and Suzanne Anderson, executive director at AGE of Central Texas
×
"Technology – Solving the Digital Divide" with Sylvain Lacasse, AGE of Central Texas, and Kami Griffiths, Community Tech Network
×
"Products and Services in the Aging Space" with Lindsay Faeder, CEO, WayWiser; Dr. Namkee Choi, UT Austin; Jim Marggraff, CEO of Kinoo; and Mike and Kim Barnes, Parenting Aging Parents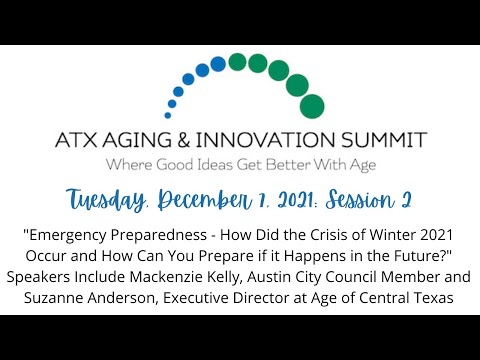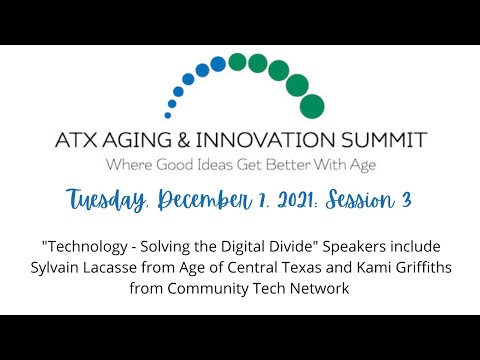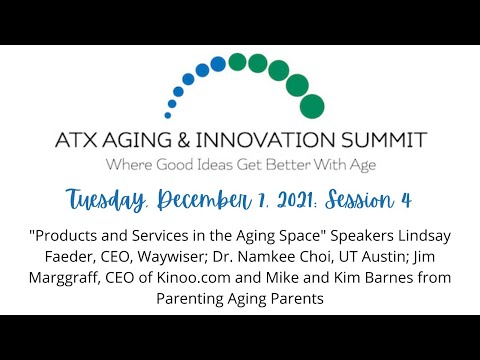 The ATX Aging & Innovation Summit on December 7, 2021 covered it all!
AustinUP hosted the fantastic event, which featured the following sessions and speakers:
Keynote – "Trends and Opportunities in the Longevity Economy" with international speaker Keren Etkin, TheGerontechnologist 
"Emergency Preparedness – How Did the Crisis of Winter 2021 Occur and How Can You Prepare if it Happens in the Future?" with Mackenzie Kelly, Austin City Council member, and Suzanne Anderson, executive director at AGE of Central Texas | Watch the replay
"Technology – Solving the Digital Divide" with Sylvain Lacasse, AGE of Central Texas, and Kami Griffiths, Community Tech Network | Watch the replay
"Products and Services in the Aging Space" with Lindsay Faeder, CEO, WayWiser; Dr. Namkee Choi, UT Austin; Jim Marggraff, CEO of Kinoo; and Mike and Kim Barnes, Parenting Aging Parents | Watch the replay
 The Senior Resource Guide was proud to once again be a sponsor of the ATX Aging & Innovation Summit.
Want to stay in the know of events like this? 
Subscribe to join our email list! If you know of an upcoming event for family caregivers and/or senior care professionals, submit it to be included on the Senior Resource Guide's calendar(s).